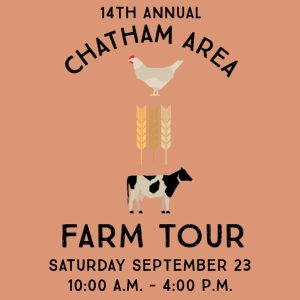 Information for the 2023 Chatham Area Farm Tour
The Chatham Agricultural Partnership and Columbia Land Conservancy present this free tour. It will feature farms in the Chatham area who open their doors to the public to get a peak into the diverse face of farming in northern Columbia County. Participants will see farm animals including horses, cattle, chickens, and more along with fresh produce, meats, wine, and syrup from farm stands for purchase.
PARTICIPATING FARMS
A. Ooms Dairy Farm
215 County Route 28A, Chatham Center | Facebook
A. Ooms and Sons is a multigeneratinal dairy farm has been producing milk in the town for over 70 years. We are the majority supplier for Beecher's Cheese in Manhattan and belong to the Cabot/McCadam cooperative. Our cows are milked with robotic milking machines and will provide tours on the hour from noon to 4pm .
Arthur's Point Farm
118 Eagle Rock Road, Ghent | (518) 553-0335 | website | Instagram | Facebook
Established in 2020, Arthur's Point Farm specializes in growing and selling a variety of native and locally-adapted cultivars of nuts, fruits, and other ecologically-important trees, shrubs, and perennial wildflowers of superior genetic selection. Our plants are young and sold mostly as bare-roots. The farm also produces probiotic biochars that build soil health, recycle nutrients, and sequester carbon. Guided tours only, 10am and 1pm. Join us!
Buttonwood Hollow Farm
71 Loomis Rd, Chatham | (518) 755-9143 | website | Instagram
A small family farm in Chatham offering exclusively pasture-raised beef and pork, wood-fired maple syrup, and cut flowers. Stop by to chat with farmers, learn about our buying club, pick up farm goods, and see the animals.
The Chatham Berry Farm
2309 State Route 203, Chatham | (518) 392-4609 | website | Instagram
The Chatham Berry Farm is a local, family-owned and operated farm, farm store and garden center. Providing fresh, wholesome food to our community since 1982, celebrating 41 years in business! Specializing in natural, organic and local produce and specialty products as well as no spray, pesticide-free, hydroponically grown greens and vegetables from their greenhouses throughout the year. Voted "Best Specialty Food Store," and "Best Garden Center" in Columbia County for 2022! Locavore Award winner! U-Pick pesticide-free fruit available July-October. The Greenhouse Cidery at the farm is open seasonally, Thursday-Saturday. Featuring unique & small batch hard cider made on site using locally grown apples, NYS beer, wine, spirits and cocktails. Farm store is open daily, 8am-6pm, 364 days a year!
Dog Wood Farm and Rock City Mushrooms
85 Hartigan Road, Old Chatham | 518-821-4282 | Dog Wood Farm Facebook | Rock City Mushrooms website
A diversified farm raising pastured turkeys, grassfed beef, and indoor-cultivated mushrooms. Tours throughout the day from 10 am to 4 pm. Farm foods available for purchase plus Thanksgiving turkey pre-orders.
Hawthorne Valley Farm
327 County Route 21C, Ghent | 518-672-7500 | website | Instagram | Facebook
Hawthorne Valley Farm is a 900-acre Demeter-certified Biodynamic® farm dedicated to farming holistically and producing high quality food. Our farm includes dairy cows, vegetables, a 300-plus member CSA, an organic creamery and artisan bakery, and more! Our on-site Farm Store is a full-line natural foods and grocery store (open daily 7:30 a.m.-7 p.m.) with a deli bar serving fresh organic meals daily. Join us for a guided tour of the vegetable operation and gardens at 11 a.m.; or at 2 p.m., for a guided tour focusing on our livestock. Tours will meet at the Farm Store pavilion. Come any time to shop in our farm store, enjoy a picnic lunch outside, and to visit our pastured pigs out by the hoop barns.
High and Mighty Farm
71 County Route 21C, Ghent | 518-672-4202 | website | Instagram
High & Mighty Therapeutic Riding & Driving Center offers riding, driving and other equine services to people of all abilities. Our herd also offers opportunities for individuals and groups to explore personal development, all in an integrated community setting. Tours from 10-3.
Kinderhook Farm
1958 County Route 21 (at the end of Garner Rd.), Ghent | 518-929-3075 | website | Instagram
With fields and operations spanning Ghent and Chatham, visit the center of activity to learn more about raising grass-fed beef, lamb, pastured pork and chickens. A farm store offers beef, lamb, pork as well as raw honey, chicken and eggs for sale. Tours throughout the day.
Little Brook Farm
548 County Route 13 (at Pitt Hall Road), Old Chatham | website | Instagram
Welcome to one of the most diverse equine facilities in the nation! Established in 1977, LBF has been successfully blending equine rescue with educational, vocational and therapeutic programs for 46 years. Riding instruction and summer camps are also offered. Tours will be available on the hour between 11am and 1pm.
Maple Leaf Sugaring
93 Dupier Road, Ghent | 518-929-0484 | website | Facebook
We are a family owned and operated certified organic maple sugaring operation producing high quality maple syrup. Come join us to learn how maple syrup is crafted. We will provide tours of our operation throughout the day. Sugar house store will be open with syrup, maple cotton candy, maple sugar and maple cream.
Staron Farm
4 Merwin Rd, Valatie | 518-392-2920 | website | Instagram
A family owned business, started in 1978 by Donna and Stanley Staron. We grow a variety of fruits and veggies, with potatoes being our largest crop and we also sell fruit from other local farms. We will be offering the fruits of our labor at our roadside stand during the Chatham Farm Tour. Our regular hours are Hours : Monday – Friday 9:00-5:30, Saturday 9:00-5:00, Sunday 10:00-4:00. June – October.
Sugar Bear Farm
1040 County Route 13, Old Chatham | Instagram
Sugar Bear Farm is a locally owned and operated horse rescue whose mission is to make a difference one horse at a time. On average, a horse has 9 homes during their lifetime and many are neglected or sent to slaughter each year, We have taken in eight horses from various situations and have brought them together to live in sanctuary full of love, safety, and great care. From 11am-2pm visitors can come and meet the horses, feed them snacks, and watch them get groomed. You will learn each horses' story and get to love them as much as we do!
Woven Stars Farm
52 Winter Hill Rd, Ghent | 508-254-0833 | website | Instagram
Woven Stars Farm is a biodynamic, women-operated livestock farm located in Ghent, New York. We raise a variety of grass fed and pasture raised meats including lamb, beef, pork, chicken and goat. We also have a flock of laying hens for eggs. Come shop in our self-serve farm store for a variety of our own chops, cuts, sausages and more! Tours offered throughout the day to meet your farmers, livestock guardian dogs, and animals.