Saturday, September 23, 2017, 10:00am-4:00pm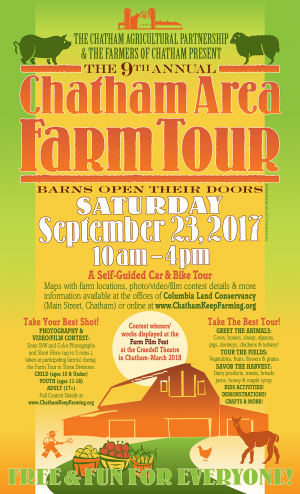 The Chatham Agricultural Partnership (CAP) is hosting their ninth annual Farm Tour on Saturday, September 23, 2017. The free tour features farms in the Chatham area open from 10:00 – 4:00. There will be horse, dairy, alpaca, sheep, cattle, maple syrup and produce farms and stands open, many with local farm products to purchase. The tour allows visitors to see the diverse face of farming in northern Columbia County, and is fun for all ages.
Download the Farm Tour Map.
This year's farms include The Berry Farm, Equine Advocates, Highland Farm, Kinderhook Farm, Little Brook Farm, Ooms Farm, Spruce Ridge Farm, Staron Farm, Little Ghent Farm, Love Apple Farm, Hawthorne Valley Farm, Dogwood Farm, Rock City Mushrooms and Maple Leaf Sugaring.
The CAP is sponsoring a photography and video/film contest for images taken on the farms during the tour. There will be three divisions for both photography and short films (under 5 min). Child (ages 10 and under), Youth (ages 11-16) and Adult (ages 17+). Contest winners' works will be displayed at the Farm Film Fest at the Crandell Theatre in Chatham, March 2018.
More tour details, including a link to a Google Map of the farm locations, and a downloadable tour guide are posted on the Chatham Keep Farming website (chathamkeepfarming.org) and will be available at participating farms and at the Columbia Land Conservancy offices in Chatham. For additional information contact: chathamkeepfarming@gmail.com.
The Chatham Agricultural Partnership, a 2012 Locavore Award nominee, promotes a sustainable agricultural community in Chatham. The CAP also sponsors the Farm Film Fest at the Crandell Theatre each spring.