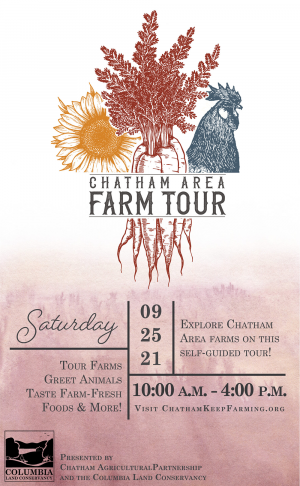 Was Held September 25, 2021
Visitors toured farms, greeted animals, tasted farm-fresh foods and more
The Chatham Agricultural Partnership and Columbia Land Conservancy presented this free tour. It featured farms in the Chatham area who opened their doors to the public to get a peak into the diverse face of farming in northern Columbia County. Participants saw farm animals including horses, cattle, chickens, and more along with fresh produce, meats, wine, and syrup from farm stands for purchase.
Staron Farm
4 Merwin Rd, Valatie 518-392-2920 | Visit their website
A family owned business, started in 1978 by Donna and Stanley Staron. We grow a variety of fruits and veggies, with potatoes being our largest crop and we also sell fruit from other local farms. We will be offering the fruits of our labor at our roadside stand during the Chatham Farm Tour. Our regular hours are M – F 9-6 and S & S 9-5 June – October.
The Berry Farm
2304 State Route 203, Chatham 518-392-4609 | Visit their website
The Berry Farm, since 1982, is a local, family-owned and operated farm and farm store. Specializing in natural, organic and local produce and products as well as no spray, pesticide-free greens and vegetables from their greenhouses throughout the year. Voted "Best Farm Market," "Best Garden Center," "Best Specialty Food Store," and "Best Farm" in Columbia County. Locavore Award winner! The Cidery at the farm serves our own hard cider and local beers.
Love Apple Farm
1421 Route 9H, Ghent, NY 12075 518-828-5048 | Visit their website
Love Apple Farm has been part of the Ghent community and regional farm scene since 1969. Situated on 80 acres with over 25 varieties of apples and fruits, we are a modern day farmstand. Our farmers market boasts 4500 sq ft. offering our very own famous tree ripe fruits as well as fresh bread, cheeses, dairy and meats. Our Cafe' serves up a variety of fresh baked pastries, salads, sandwiches and of course–our FAMOUS Apple Cider donuts! Take time to stroll through our orchards stopping by our free petting zoo and playground for the kids!! Open all year round ~7 days a week
Equine Advocates Rescue & Sanctuary
3212 State Route 66, Chatham 518-392-0175 | Visit their website
(Please call ahead as our staff will all be outside to greet you on Farm Day)
Equine Advocates promotes the humane and responsible treatment of equines through rescue operations, advocacy & humane education. Come and meet the 81 rescued horses, ponies, donkeys & mules that call the sanctuary home! Read their bios on graphics at each paddock, and learn about where they came from and why they needed to be rescued. You will gain a better understanding of the issues facing America's equines through their stories. This makes for a much more education and fun experience! Bring your lunch and picnic at our benches by the pond – you can watch the horses nearby and enjoy one of the most serene places on the farm. We know you will have a memorable time!
Kinderhook Farm
1958 County Route 21 (at the end of Garner Rd.), Ghent 518-929-3075 | Visit their website
With fields and operations spanning Ghent and Chatham, visit the center of activity to learn more about raising grass-fed beef, lamb, pastured pork and chickens. A farm store offers beef, lamb, pork as well as raw honey, chicken and eggs for sale. Tours throughout the day.
Hawthorne Valley Farm
327 County Route 21C, Ghent 518-672-7500 | Visit their website
Hawthorne Valley is a 900-acre Demeter-certified Biodynamic® farm dedicated to producing high quality food for nearly 50 years. Our farm includes dairy cows, vegetables, a 300-plus member CSA, a creamery, an organic artisan bakery, a fermentation enterprise, and more! Our on-site Farm Store is a full-line natural foods and grocery store (open daily 7:30 a.m.-7 p.m.) with a deli bar serving fresh organic meals daily. Join us for a guided farm tour at 2:00 p.m., or pick up a map and take a self-guided tour at your convenience.
Dog Wood Farm & Rock City Mushrooms
85 Hartigan Road, Old Chatham, NY 12136. 518-821-4282
Visit the Dog Wood Farm website | Visit the Rock City Mushrooms website
A diversified farm raising pastured chickens and turkeys, grassfed beef, and indoor-cultivated mushrooms. Tours throughout the day from 10 am to 4 pm. Farm store with fresh mushrooms, eggs, beef, and other farm foods plus Thanksgiving turkey pre-orders.
Maple Leaf Sugaring
93 Dupier Road, Ghent, 518-929-0484 | Visit their website
We are a family owned and operated certified organic maple sugaring operation producing high quality maple syrup from over 7,000 taps. Come join us to learn how maple syrup is crafted. We will provide tours of our operation throughout the day. Sugar house store open with syrup, maple cotton candy, maple sugar and maple cream.
Hudson-Chatham Winery
1900 State Route 66, Ghent. 518-392-9463 | Visit their website
Hudson Chatham Winery is Columbia County's first winery starting in 2006. The winery changed hands for the first time in 2020, purchased from Culinary Institute of America alumni, Steven Rosario and Justen Nickell who are thrilled to be settled back in the Hudson Valley Region. Over the last year the winery has evolved into a farm winery introducing an apiary and chickens. We have also expanded the vineyard from 4 acres to 8 acres growing approximately 18 grape varietals on the property. We will offer walking tour times on farm day with one of the owner/winemakers!
Ooms Dairy Farm
215 County Route 28A, Chatham Center | Visit their Facebook page
The largest dairy operation in Chatham sells wholesale milk and is a multi-generational dairy farm in business for over 50 years. See the robotic milking machine! Tours on the hour from noon to 4:00.
High & Mighty Farm
71 County Route 21C, Ghent, NY 12075. 518-672-4202 | Visit their website
High & Mighty Therapeutic Riding & Driving Center offers riding, driving and other equine services to people of all abilities. Our herd also offers opportunities for individuals and groups to explore personal development, all in an integrated community setting. Tours from 10-3.
Red Rock Farm
169 County Route 24, East Chatham, NY 12060. 518-392-4813 | Visit their Facebook page
A family farm raising a small herd of grass fed beef and dairy cattle, free roaming laying hens, pastured meat chickens, maple syrup, and a bountiful garden. Self serve farm store with beef, eggs, maple syrup, vegetables, and leather products. Self-guided tours from 10-4.
Grimaldi Farm
22 Old Talerico Road, Ghent, NY 12075. 518-929-3420 | Visit their website
Grimaldi Farm's proudly raised Certified Organic Grass-Fed and Grass Finished Beef. Rotational raised Non-GMO fed Chickens. We have a Farm Store where we sell our Certified Organic Grass-Fed Beef, Farm Fresh Eggs, and support many other local producers. On tour day we will also have a food truck serving our products and farm tours from 10-4.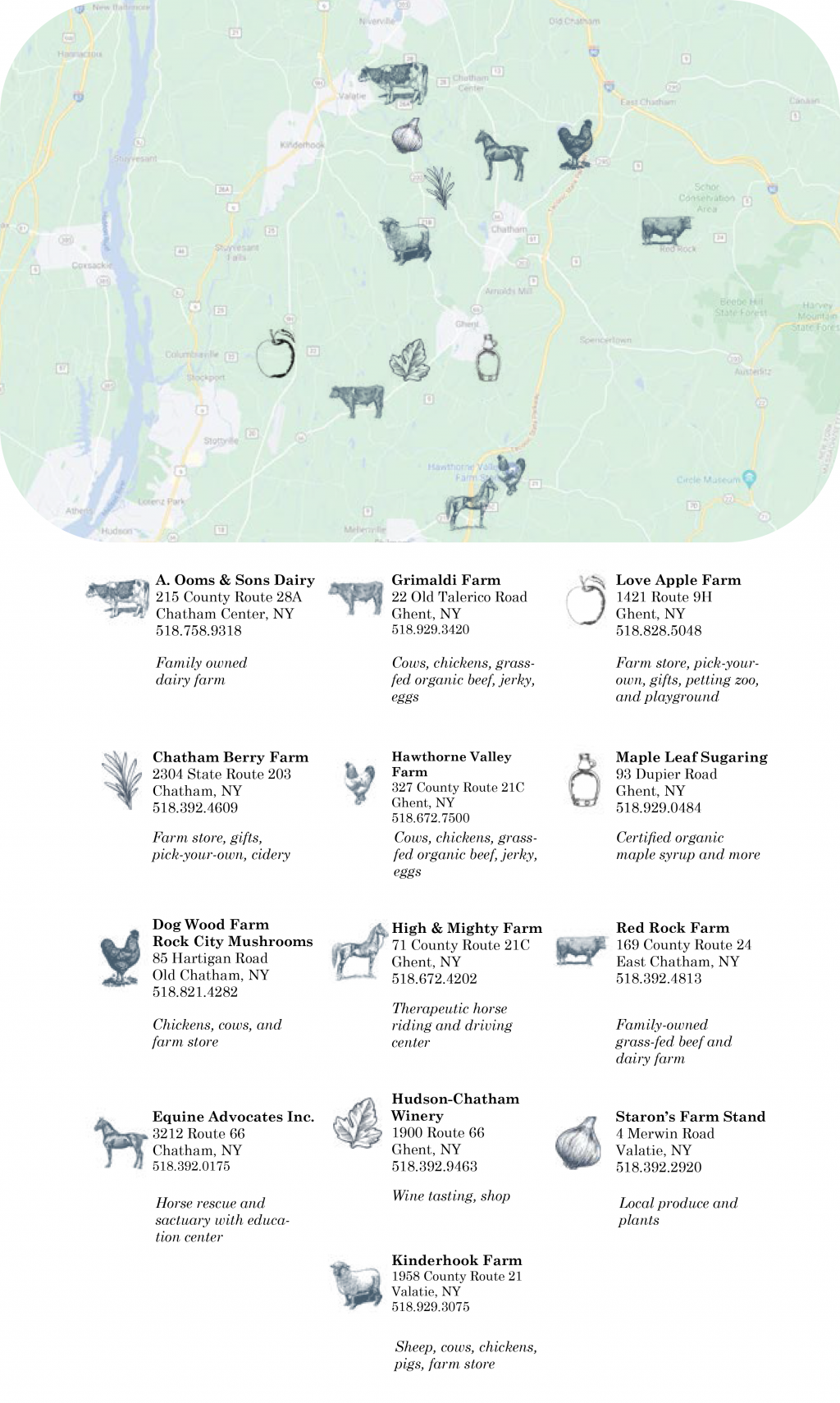 Download a PDF of the above map.